FROM THE CAB - December 2022
By Martin Wheeler, President, Carolinas Association for Passenger Trains
"The Western NC Feasibility Study is now expected early next year. First draft should be ready for review by late January, and after review the final report should follow by April. The analysis of the Asheville-Salisbury rail passenger route will include engineering work for upgrading the line to Centralized Traffic Control with Positive Train Control, remote switching, freight coordination, and ridership analysis. The work will aid in getting FRA Corridor Identification which will speed the process of pursuing the project, and hopefully help free up federal infrastructure dollars.
Piedmont and Carolinian ridership continues to increase with 55-thousand riders during October. The 4th additional Piedmont frequency between Charlotte and Raleigh is still planned for Spring of 2023. Operational and scheduling issues are now being addressed by Amtrak and the Rail Division of NC DOT.
Rail Division Director Jason Orthner says North Carolina is receptive to cooperative efforts with the South Carolina Department of Transportation on furthering the rail passenger experience in the Carolinas. Charlotte to Columbia service ideas have been shared recently between the Transportation Secretaries of both states. Both states also have interest in more frequent and higher speed service between Charlotte and Atlanta.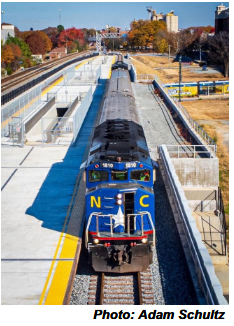 More transportation dollars are headed for North Carolina. Due to action by the General Assembly yearly transfer of 6 percent of general tax fund revenues to transportation will occur in Fiscal Year 2025. To ramp up to the level a 2 percent transfer will occur in FY 2023, and 4 percent transfer in FY 2024. The new money will benefit road, rail, aviation and ferry programs."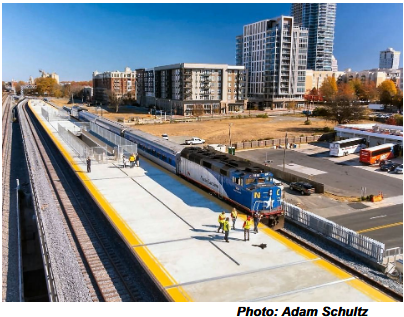 "A test train visited the new center island station platform at the new Charlotte Gateway Transportation Center site in late November. Work on the Gateway station building is expected to begin within a year, and completion and service beginning in 2026. That work has been delayed due to Charlotte Area Transit System which initially planned a Silver Line light rail stop parallel to the station platform. A new proposal which would have the new light rail line sharing the Gold Line Streetcar right of way on the ground level is now being considered. A decision on which proposal goes forward is expected in February.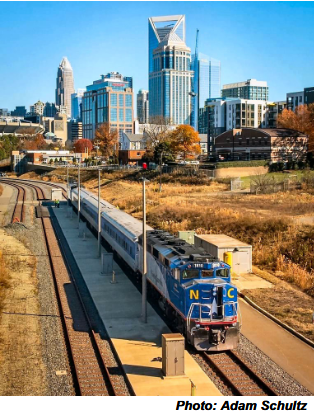 The test train also visited the new rail maintenance facility south of site which has now been connected to Norfolk Southern tracks. It's unclear when passenger trains will begin using the maintenance facility. Initially it will be the overnight home of the Carolinian for layover and servicing.
"The board of the Carolinas Association for Passenger Trains has a vacant North Carolina position that needs to be filled. If anyone would like to serve and help further the cause of rail passenger service in the Carolinas please contact any officer or board member. CAPT also needs a Secretary as Phil Astwood is stepping down after many years of faithful service. The Secretary is a board position so one would have to be an active member, and be appointed to the board to serve in that capacity. The time is favorable for a number of improvements and expansion of rail passenger service, and CAPT needs people to make our voice heard. Please thoughtfully consider stepping in and joining our team."